Jackery Solar Generator Kits – Explore how mountable solar panels and electric storage combine to create an unbeatable portable solar solution. The Solar Generator 2000 Pro delivers under 53 DB of charging ensuring quiet and peaceful charging – charge your products seamlessly, quietly, and smoothly. The product also emits no toxic gases, operating extremely cleanly – causing no harm to the environment.
Jackery Solar Generator Kits
What Is A Solar Generator
A solar generator can technically refer to a solar solution that combines a portable power station with solar panels. It converts sun energy captured by solar panels into electrical power and then stores it in a portable power station for later use. A solar generator is a reliable and clean power source for campers, RVs, or as an emergency backup if your power goes out.
The portable power station supports pass-through charging. This allows you to charge your power station, with essential devices still plugged in, meaning you can charge on the go quickly and conveniently.
How Solar Generators Work
| | | |
| --- | --- | --- |
| | | |
| Collect solar energy by placing the solar panels in direct sunlight. | Stores power in a lithium battery from a solar panel and releases stored energy. | Power a wide variety of devices and appliances by releasing stored energy. |
Jackery Solar Generator VS. Gas Generator
Green
Solar Power: Zero CO2e
Air Pollution
Gas or Oil Power: 500g/H CO2e
Quiet
Noise Level at 7m: 7dB
Noise
Noise at Level at 7m: 57dB
Easy to Use
Simply press the button to start the power station
Hard to Set Up
High start-up failure rate due to uncertain factors
Only Initial Cost
No extra cost on fuel and maintenance
Ongoing Cost
Continued increasing ownership cost on fuel and maintenance during its lifetime
Find The Right Solar Generator For You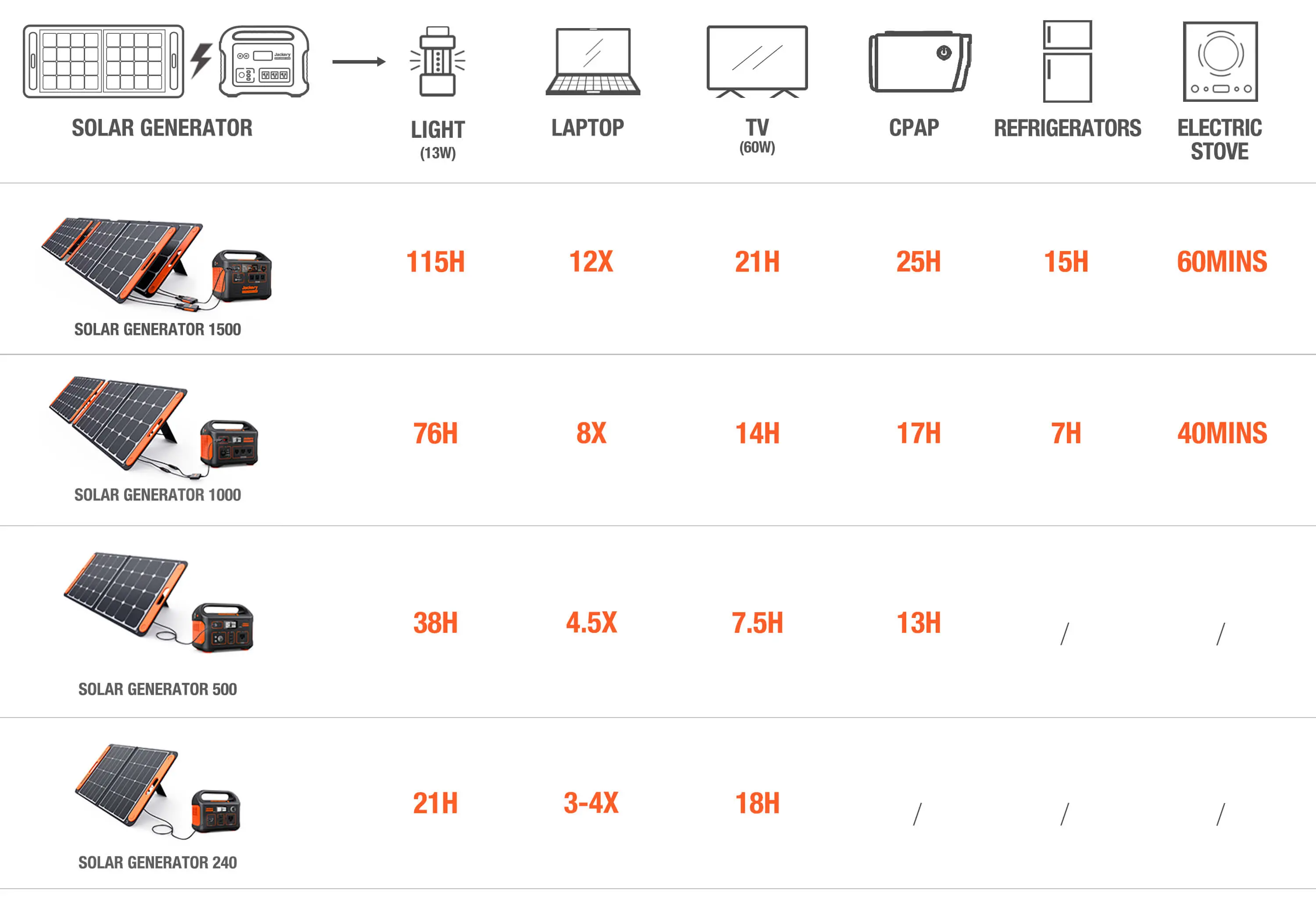 Jackery Products
Please note, for purchases of the Solar Generator from our website or Amazon stores – all items included in this bundle will be shipped in separate packages due to their large size.