Jackery Solar Generator 1500 Bundle (Explorer 1500 + SolarSaga 100W) – In order to drive our determination in transforming the way of using portable power stations, we believe in pairing them with the SolarSaga panels. Together, it is the "Solar Generator".
Jackery Solar Generator 1500 Bundle
Jackery Product & Design team has devoted over a year to inventing a technology, enabling our product line to a smarter, more user-friendly, and higher efficient operating system – the Solarpeak™ Technology (an upgraded MPPT solar regulator). Its algorithm will identify, monitor, and maximize the greatest possible input available in concurrency, extracting the most sizable power under all conditions to add up to 30% more solar charging efficiency, which shortens the charging time to 4 Hours (0-80%) under straight full sun.
Jackery Explorer 1500
POWER UP TO 85% OF APPLIANCES: With 1800 running wattage (3600 surge power) and the massive 1488Wh capacity, the Explorer 1500 will power 85% of your appliances, including home devices, power tools, microwaves, refrigerators, and other larger power demand.
VERSATILE PORTS: Featured with 3*AC Pure Sine Wave AC outlets(110V, 1800W, 3600 surge power), 1*PD 60W USB-C Port, 1*Quick Charge 3.0 Port, 1*USB-A Port, 1*12V Car Port, the Explorer 1500 supports multiple devices simultaneously. The power station can confidently provide sustainable power solutions for outdoor camping or indoor emergency use.
RECHARGE FROM 0-80% IN ONLY 2 HOURS: It takes 2 hours to recharge up to 80%, via the Dual-AC adapter (total of 600W). In a recharging condition of pairing with the 4*100W solar panels, the Solarpeak Technology (upgraded MPPT technology) will boost 30% solar recharging efficiency.
SAFELY DESIGNED AND EASY TO USE: Compared with gas generators, the Explorer is safer and easier to use. The BATTERY MANAGEMENT SYSTEM takes care of the safety level while optimizing the battery performance. Additionally, The ONE-BUTTON design allows a more user-friendly manner to operate.
Jackery Explorer 1500 Specifications
| | |
| --- | --- |
| Weight | 33.1 lbs (15 kg) |
| Dimensions (LxWxD) | 14 x 10.4 x 12.7 in (35.6 x 26.4 x 32.3 cm) |
| Operating Usage Temperature | 14-104F (-10-40℃) |
| Certification | FCC, ROHS, UN38.3 |
| Warranty | 24 Months |
| Optional Accessory | Jackery SolarSaga 100W Solar Panel |
| Capacity | 1488Wh (36V, 41.3Ah) |
| Cell Chemistry | Panasonic 18650 Li-ion Batteries |
| Battery Life | 8 Years |
| Management System | BMS, Over Voltage Protection, Short Circuit Protection |
Explorer 1500 Recharge Times
| | |
| --- | --- |
| 1 x AC Adapter | 6 Hours |
| 2 x AC Adapter | 3.5 Hours |
| 12V Car Adaptor | 13 Hours |
| 2 x SolarSaga 100W Solar Panel | 9.5 Hours |
| 4 x SolarSaga 100W Solar Panel | 5 Hour |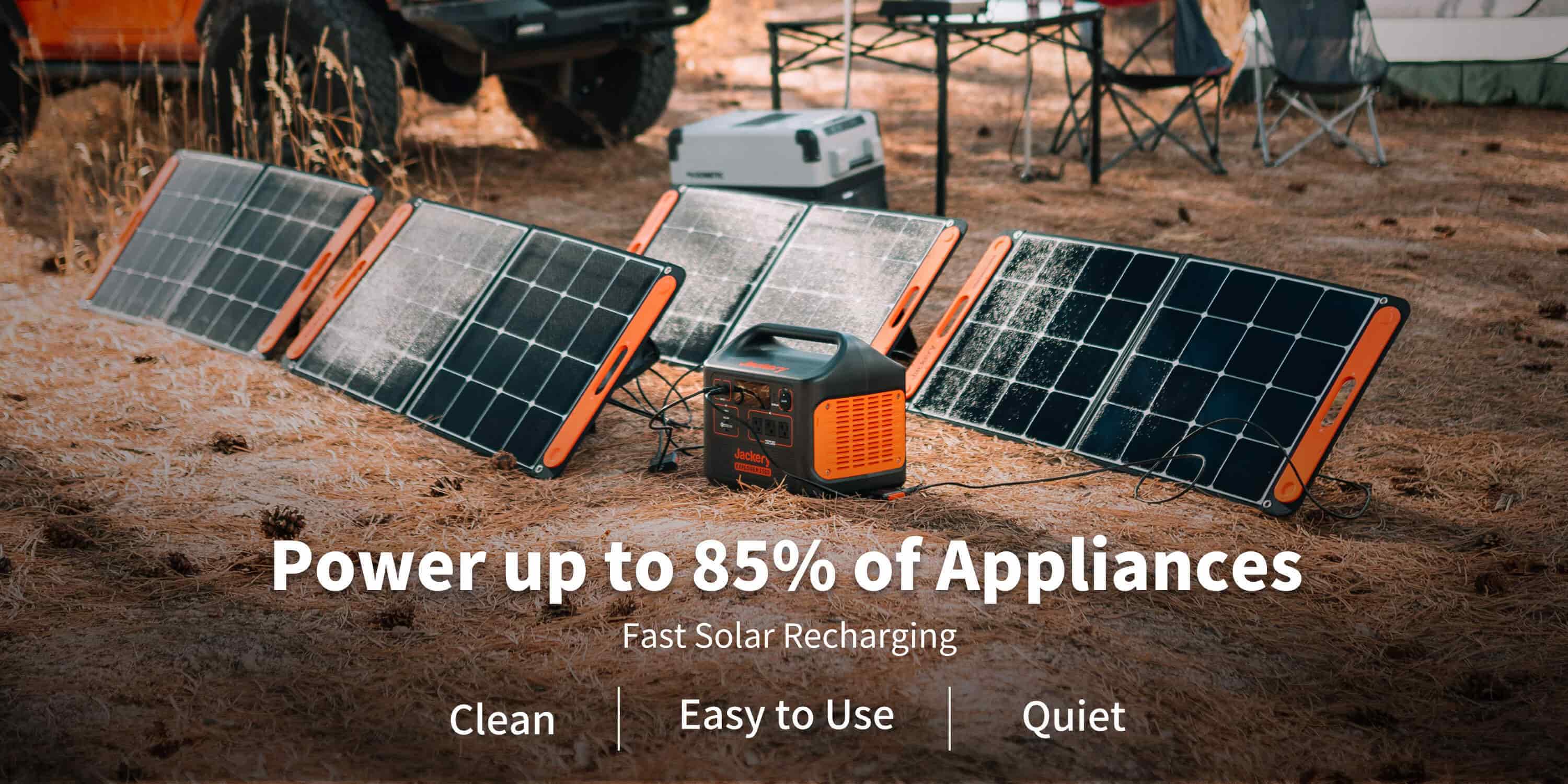 Solar Panel 100W Features
Easy Setup & Kickstand Included: The Solar Saga 100 features 2 kickstands that can be placed firmly on any surface ground. With just a few seconds of setup, you can start soaking energy from the sun for your Jackery power station. The TPE rubber handle allows you to carry it around easily when taking off-grid adventures.
Higher Energy Conversion Rate: Covered by monocrystalline silicon solar cells, the solar panel adopts multi-layered cell technology to generate energy from the sunlight and performs better with a higher conversion efficiency of up to 23% than other conventional panels.
Durable & Splash-Proof: The ETFE-laminated case is durable enough to extend the lifespan of the solar panel. It is IP65 water-resistant that will protect from water splashing (Do not place it under the rain, or soak it in water). The zippers on the pocket can hold the power cords, and cover the power port.
Compatible & Versatile: This solar panel is compatible with Jackery Explorer 300/500/1000/1500 power station (sold separately), ideal for off-grid camping and unexpected power outage. Solar Saga 100 features 1* USB-C(5V,3A) output port and 1* USB-A(5V, 2.4A) output port to charge 2 small devices directly.
Note: Jackery is now providing a new solar Saga 100X with no change in performance or functionality, but differentiates only in appearance.
Solar Panel 100W Specifications
Weight:
10.33 lbs (4.69 kg)
Dimensions (folded):
24 x 21 x 1.4 in (610 x 535 x 35 mm)
Dimensions (unfolded):
48 x 21 x 0.2 in (1220 x 535 x 5 mm)
Operating Usage Temperature:
14-149F (-10-65℃)
Warranty:
24 Months
Peak Power:
100W
Cell Efficiency:
23%
Power Voltage:
18V
Power Current:
5.55A
Open Circuit Voltage:
21.6V
Short Circuit Current:
6A
Load More