Description
Jackery Explorer 1000 Portable Power Station is one of the most powerful portable power stations. With 1002Wh capacity, 1000W rated power (2000W surge power), and multiple output charge/recharge ports, it meets the power supply needs of higher and most power electrical appliances.
Jackery Explorer 1000 Portable Power Station
Jackery Explorer 1000 Features
Larger Capacity and Higher Wattages: 1002Wh(46.4Ah) lithium battery capacity, 1000W Rated Power, and 2000W Surge Power.
Multiple Output Ports: Two USB-C, two USB, one DC carport & three AC outlets (with the pure-sine wave). Going off-grid and being able to power your cameras, computers, communication devices, and also a CPAP and electric grill.
Green Outdoor Power Solution: Efficient solar charging with MPPT built-in makes it a solar generator for outdoor recreations. Charge the battery to full around 8 hours by connecting two
SolarSaga 100W with an adapter cable (package included).
Portable and Compact: Weighs only 22lbs, it is carry-friendly with an easy-carry handle.
The LCD screen with charge/discharge data and battery life status.
Professional MPPT technology provides faster solar recharge rates. The Explorer 1000 can be quickly recharged within 8 hours by connecting two SolarSaga 100W solar panels together with an adapter cable (package included). If connecting only a single panel, the approximate recharging time is 17 hours.
With its compact and wireless design, Explorer 1000 is one of the best investments for your outdoor party. It could run most of your essential outdoor appliances and electronics such as blender, pellet smoker, ice shaver, radio, and projector. When you need power in special circumstances, Jackery Explorer 1000 portable power station can also be your reliable backup power supply for refrigerators, CPAP/BiPAP, computers, etc.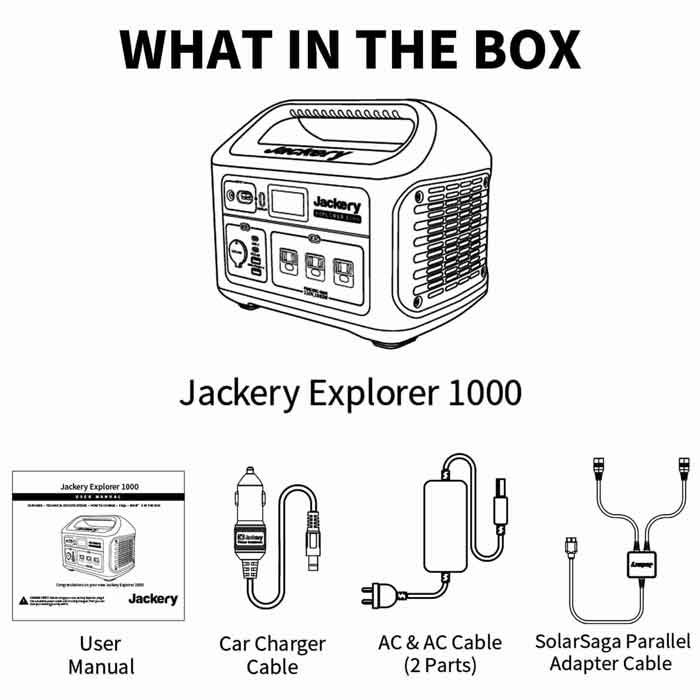 Jackery Explorer 1000 Specifications
| | |
| --- | --- |
| Capacity: | 1002Wh (21.6V, 46.4Ah) |
| Cell Chemistry: | Li-ion NMC |
| Lifecycle: | 500 cycles to 80%+ capacity |
| Management System: | BMS, Over Voltage Protection, Short Circuit Protection |
Jackery Recharge Times:
AC Adapter: 7 Hours
12V Car Adaptor: 14 Hours
Two SolarSaga 100W Solar Panels: 8 Hours
Jackery Ports:
AC Output: 110VAC, 60Hz, 1000W (2000W Surge)
USB-A Output: 5V, 2.4A
Quick Charge 3.0 Output: 5-6.5V, 3A / 6.5-9V, 3A / 9-12V, 1.5A
USB-C Output: 5V, 9V, 12V up to 3A
Car Output: 12V, 10A
DC Input: 12V-30V (163W Max)
Jackery Product:
Weight: 22.04 lbs (10 kg)
Dimensions (LxWxD): 13.1 x 9.2 x 11.1 in (33.3 x 23.3 x 28.3 cm)
Operating Usage Temperature: 14-104F (-10-40℃)
Certification: FCC, ROHS, UN38.3
Warranty: 24 Months
Optional Accessory: Jackery SolarSaga 100W Solar Panel
Jackery FAQs:
What devices can Explorer 1000 power?
Please note that the AC output ports can only charge/power devices that operate at less than 1000-Watts, besides, the whole wattage should be under 1000 watts as well. Once exceeding, the Explorer 1000 will shut off automatically. Please refer to your device specification before purchase.
How to know the working times for my device?
Working time = 1002Wh* 0.85 / operating wattage of your device
For reference, assuming the power consumption of your device is 60W (might be a box fan), working time will be 1002Wh*0.85/60w=14.2hrs (rough calculated).
Please note: actual power consumption varies from different usages, please consult Jackery for a better purchase decision.
What are the maximum watts of solar panels that can be used to charge Explorer 1000? Also how long will it take to recharge from a fully discharged battery?
The maximum input wattage of Explorer 1000 is 126W(12~30V,7.5~8.33A ). As for recharging time, it depends on which panel you are using and weather conditions, for example, the Explorer 1000 can be quickly recharged within 8 hours by connecting two SolarSaga 100W solar panels together with an adapter cable. If connecting only one single panel, the approximate recharging time is 17 hours. Recharging time may vary from different locations, temperatures, weather, etc, the actual time may be different.
Is the Explorer 1000 power station waterproof?
The Explorer 1000 is not waterproof. Please do not store them in a humid environment for a long time.
View More Jackery 1000 Helpful Reviews
Best Seller
EcoFlow RIVER Pro + 110W Solar Panel
Price: $1,049.00 $949.00
The EcoFlow RIVER Pro is a compact, portable power station that is built for taking your adventure into the great outdoors. Whether you are camping, over-landing, tailgating, or boating, the RIVER Pro provides reliable power that lets you take your adventure anywhere.