Jackery Explorer 2000 Pro – The Portable Power Station Explorer 2000 Pro delivers enormous charging capacity (2,160Wh) powering all your required appliances including hot plates, blenders, air conditioners, and more. It's also ideal to use for outdoor off-grid activities (camping or RV) & home emergency use.
Jackery Explorer 2000 Pro
Jackery Product & Design team has devoted over a year to inventing technology for creating a smarter, more user-friendly, and higher efficient operating system – the Solarpeak Technology® (an upgraded MPPT solar regulator). Its algorithm can identify, monitor, and maximize the greatest available input in concurrency, extracting the most sizable solar energy under all conditions. It adds up to 30% more solar recharging efficiency.
Jackery 2000 Pro Features
The power station can be fully charged with 6 SolarSaga 200W solar panels in only under 2.5 hours, and in just 2 hours via an AC wall outlet. This fantastic charging experience allows you to charge away in no time while off the grid.
The first-rate lithium battery houses two chips for dual battery protection and four temperature core detectors, guaranteeing the perfect blend of safe and reliable charging. Taking safety to the very next level.
With a simple press of a button, the access to outstanding charging efficiency becomes available in seconds. The Explorer 2000 PRO delivers under 53DB of charging ensuring quiet and peaceful charging.
The portable power station supports pass-through charging. This allows you to charge your power station, with essential devices still plugged in, meaning you can charge on the go quickly and conveniently.
5-Year Warranty: A 3-year warranty on regular purchases, plus an additional 2-year extension on your warranty when ordering from our Official Website.
Jackery 2000 Pro Specifications
| | |
| --- | --- |
| Weight | 43 lbs (19.5 kg) |
| Dimensions (LxWxD) | 15.1 x 10.5 x 12.1 in (38.4×26.90×30.75cm) |
| Operating Usage Temperature | 14-104F (-10-40℃) |
| Certification | FCC, ROHS, UN38.3 |
| Warranty | 3 Years |
| Optional Accessory | Jackery SolarSaga 200W Solar Panel |
| Capacity | 2160Wh (43.2V 50Ah) |
| Cell Chemistry | Lithium-ion Battery |
| Battery Life | 1000 cycles to 80%+ capacity |
| Management System | BMS, Over Voltage Protection, Short Circuit Protection |
Explorer 2000 Recharge Times
| | |
| --- | --- |
| AC Adapter | 2 Hours |
| 12V Car Adaptor | 24 Hours |
| 6 x SolarSaga 200W Solar Panel | 2.5 Hours |
| 4 x SolarSaga 200W Solar Panel | 4 Hours |
| 2 x SolarSaga 200W Solar Panel | 7.5 Hours |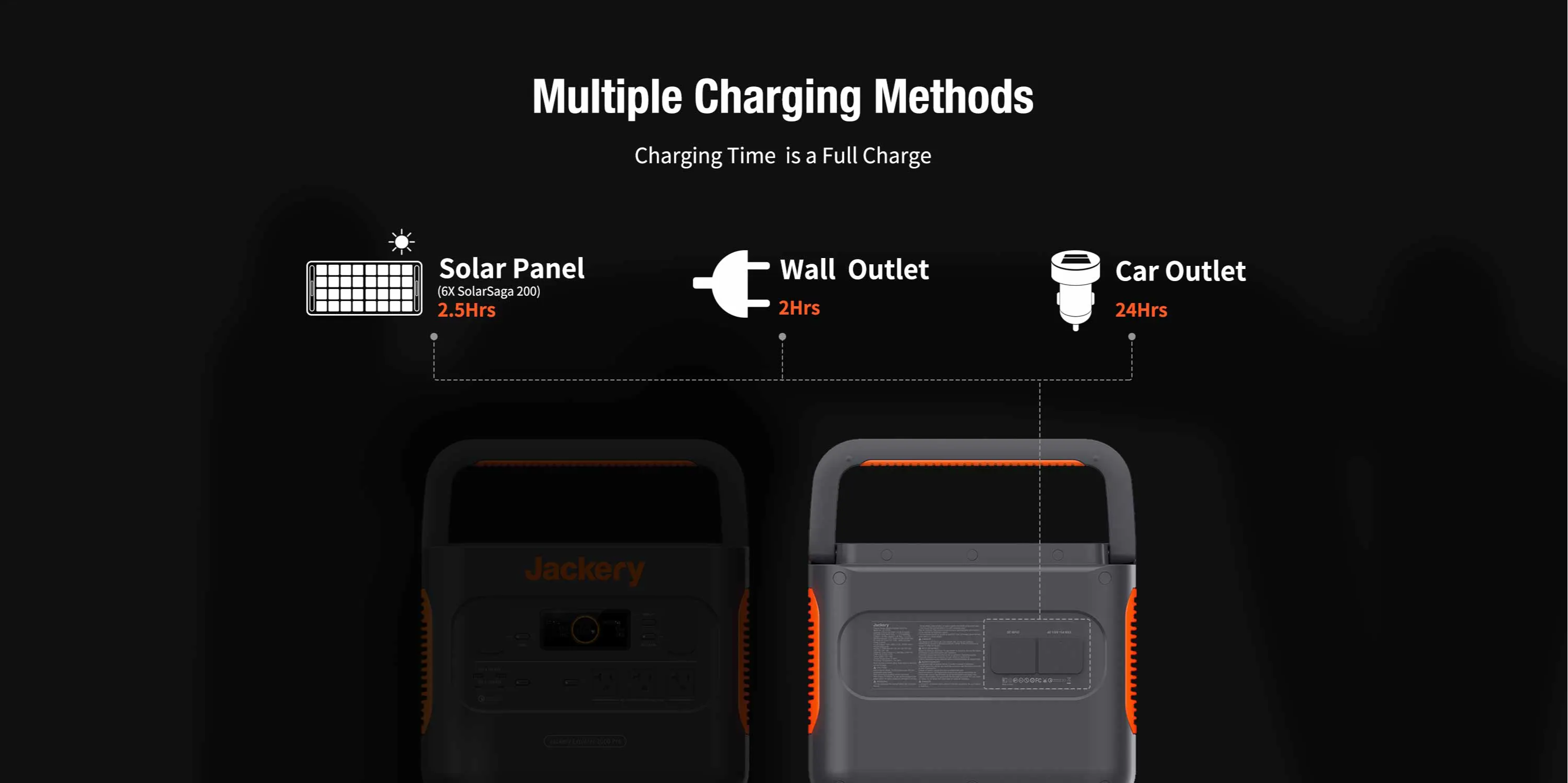 View More Jackery 2000 Pro Helpful Reviews