Best Solar Powered Generator
Stay powered on no matter what. DELTA Max connects with up to 2x 400W EcoFlow solar panels to deliver 800W Max solar charging speeds.
Looking for something to power heavy-duty devices like your fridge and dryer? With X-Boost, DELTA Max handles devices up to 3400W with ease.
Expandable Home Backup Power
A single DELTA Max unit packs a 2kWh capacity that is expandable up to 6kWh with DELTA Max smart extra batteries. This means when a blackout hits, you can continue to power your important home devices such as your fridge and lights for hours on end.
Convenient & Fast Dual Charging
DELTA Max charges up safely and rapidly from 0-80% in just 65 minutes. And it gets even better. If you're looking for an even faster way to charge up DELTA Max, you can combine AC with the smart generator to get up to 3400W, AC with solar to get up to 2600W, or the Smart Generator with solar to get up to 2600W.*
My new Delta Max 2000 is installed in my outside shed which is within 10 feet of the side garage door. I installed a 4 pole L14-20R receptacle on the outside of the wooden shed that will be used for the Derlta Max AC output. A transfer switch and cable are in the garage. Also added to the shed was a NEMA 5-20 plug for the Delta Max AC input charge line. Next will be 400 watt solar panels on the roof. Today I powered both my washing machine AND the gas dryer doing two loads. The Delta Max worked fine and when the wash was done it had only dropped down to 70%. Amazing, quiet power source. The spare battery just arrived so that's going in right away. The phone app is a nice touch to keep an eye on loading and charge rate.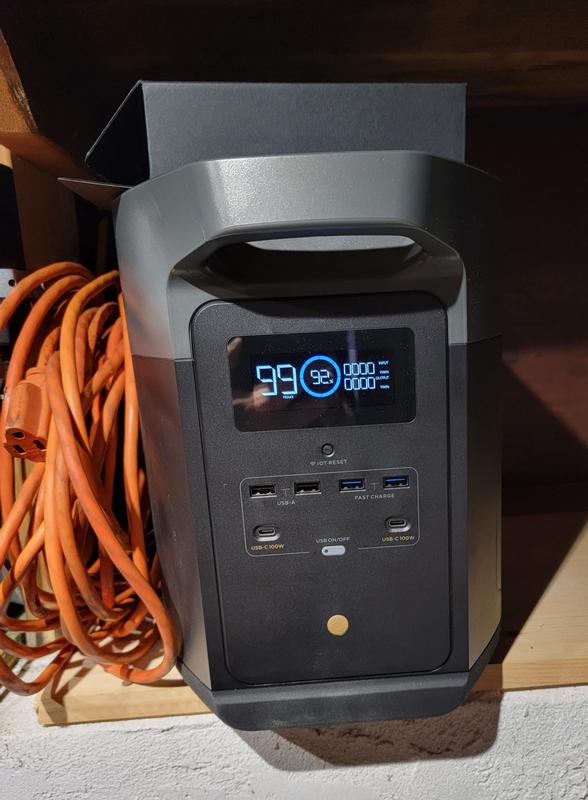 I'm sharing my thoughts after using the power generator for a week- the product is kind of medium weight, it's not as heavy as Delta Pro Max, it's the perfect size and dimensions for me, and it covers all of my needs in my semi-truck. I purchased this product for my semi-truck and I can power pretty much everything in it- microwave, coffee machine, TV, toaster, fridge/refrigerator and portable AC (Eco Flow Wave- for which I'm waiting to arrive). When I stop for my 10-hour break at night I have enough power from Delta Max to use all of my appliances without running the truck, if the truck is running all night it will cost me around $50-$60 for fuel every night, thus this product is just perfect for every truck driver. I can charge the power station for hour and a half during the day while I'm working and then I can use it for the whole night. I HIGHLY RECOMMEND THIS PRODUCT to everybody and especially to truck drivers as I am.