Jackery Explorer 1500 Pro Portable Power Station – The ultra solar charging, more than a fast charging experience. Solar charging is reborn with a 2 hours solar charge, supporting maximum of 1,400W solar power input and an unbelievable 2 hours wall charge (6*200W solar panels). Get ready to explore further with Jackery Solar and more than fast.
Jackery Explorer 1500 Pro
Safety is taken to the next level with intelligent BMS and 8 state-of-the-art temperature sensors for accurate, safe temp control. A patented multi-duct design provides 30% improved heat dissipation efficiency, generating 100% product safety. The complete safe charging experience has arrived.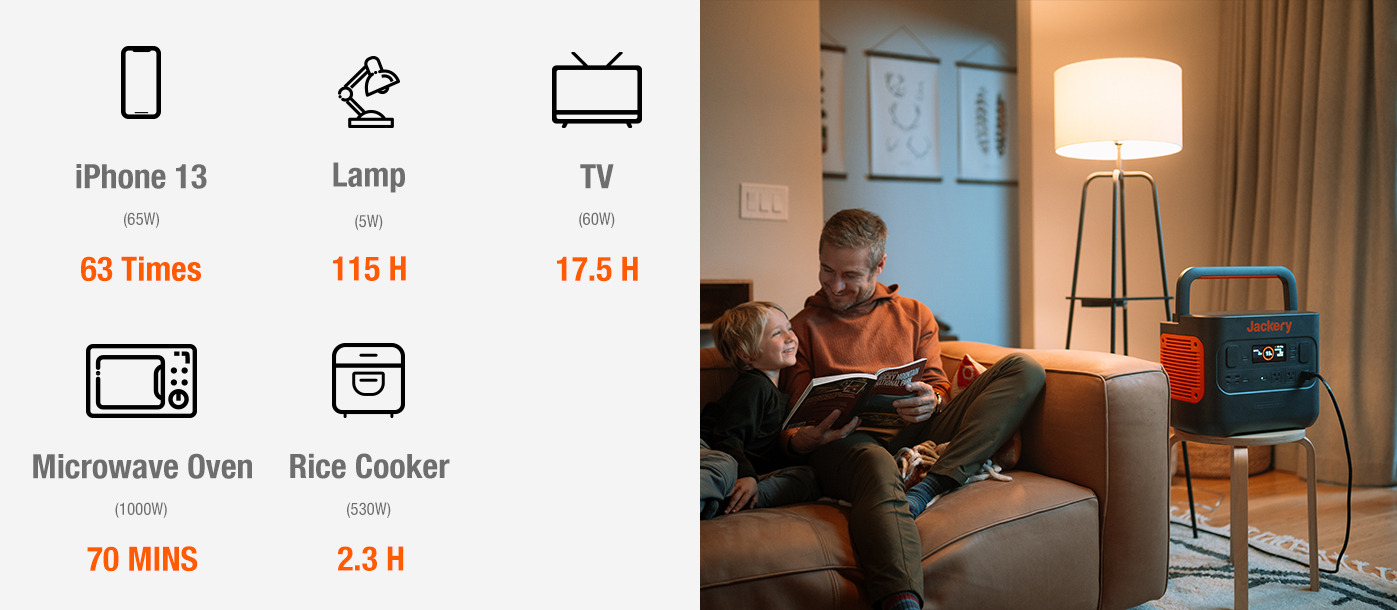 Features
1800W Power Charging 8 Devices: Immense power is now ready at your fingertips. The Explorer 1500 Pro features the Dual PD100W design, three 1800W AC charging ports, two USB-C charging ports, and one car charger, allowing for fast charging of all household devices and gadgets thinkable.
Strong, Reliable, and Durable: The power station is incredibly durable and very long-lasting, with the outer shell having the highest UL requirements, featuring top 94V-0 fireproof material, and passing safety drop standards. Strength and reliability are completely guaranteed.
Power On The GO: Weighing in at just a feather-light 37.4 lbs, Jackery's all-new Explorer 1500 Pro is 20% lighter than similar products with the same capacity. Also, equipped with a foldable handle, making it easy to carry anywhere you desire. Power on the go is here.
5 Years Long Superb Warranty: If you have any quality problems at all, Jackery is there for you providing all the help you need at any time, allowing the perfect shopping experience.
Explorer Further with Jackery Solar – Jackery takes you further, to all your dream destinations the world has to offer, with Solar Power.
Jackery Explorer 1500 Pro Specifications
Capacity:
1512Wh (43.2V 35Ah)
Cell Chemistry:
Lithium-ion Battery
Lifecycle:
1000 cycles to 80%+ capacity
Management System:
BMS, Over Voltage Protection, Short Circuit Protection
Weight:
37.48 lbs (17 kg)
Dimensions (LxWxD):
15.1 x 10.5 x 12.1 in (38.4×26.90×30.75cm)
Operating Usage Temperature:
14-104°F (-10-40℃)
Warranty:
(3+2) Year Warranty
Optional Accessory:
Jackery SolarSaga 80/100/200W Solar Panel
AC Output:
120V, 60Hz, 1800W (3600W Peak)
USB-A Output:
Quick Charge 3.0, 18W Max
USB-C Output:
100W Max, (5V, 9V, 12V, 15V, 20V up to 5A)
Car Port:
12V,10A
AC Input:
120V, 60Hz, 10.83A Max
DC Input:
11V-17.5V, 8A Max, Double to 8A Max
17.5V-60V, 12A, Double to 24A/1400W Max
Recharge Times
AC Adapter: 2 Hours
12V Car Adapter: 16.5 Hours
1x SolarSaga 200W Solar Panel: 9 Hours
2x SolarSaga 200W Solar Panel: 5 Hours
6x SolarSaga 200W Solar Panel: 2 Hours