Solar Panel 60W Jackery SolarSaga – A lightweight solution for on-the-go power from the sun. You can harness the power of the sun and convert it into a lithium power station and keep all your gadgets charged. Easy to Carry & Kickstand Included: Weighing at only 6.6lb, this solar panel is foldable and handy with a TPE rubber handle. The kickstand leans at an angle that makes the solar panel easily soak energy from the sunlight.
Solar Panel 60W Jackery SolarSaga
Solar Panel 60W Features
Higher Conversion Efficiency: The monocrystalline silicon solar cells provide a conversion efficiency of 23%, higher than other conventional panels, allowing your Explorer 160/240 power station(sold separately) to be charged in 4.5hrs/6.5hrs. Ideal for RV camping, off-grid road trip, and unexpected power outages.
Durable & Splash-Proof: The ETFE-laminated case is durable enough to extend the lifespan of the solar panel. It is IP65 water-resistant that will protect from water splashing (Do not place it under the rain, or soak it in water). The zippers on the pocket can hold the power cords, and cover the power port.
Compatible with Jackery Explorers: It takes 4.5hrs and 6.5hrs to charge Jackery Explorer 160 and Explorer 240 with Solar Saga 60. This portable solar panel is also equipped with 1* USB-C and 1* USB-A port that allows you to charge up to 2 devices at once.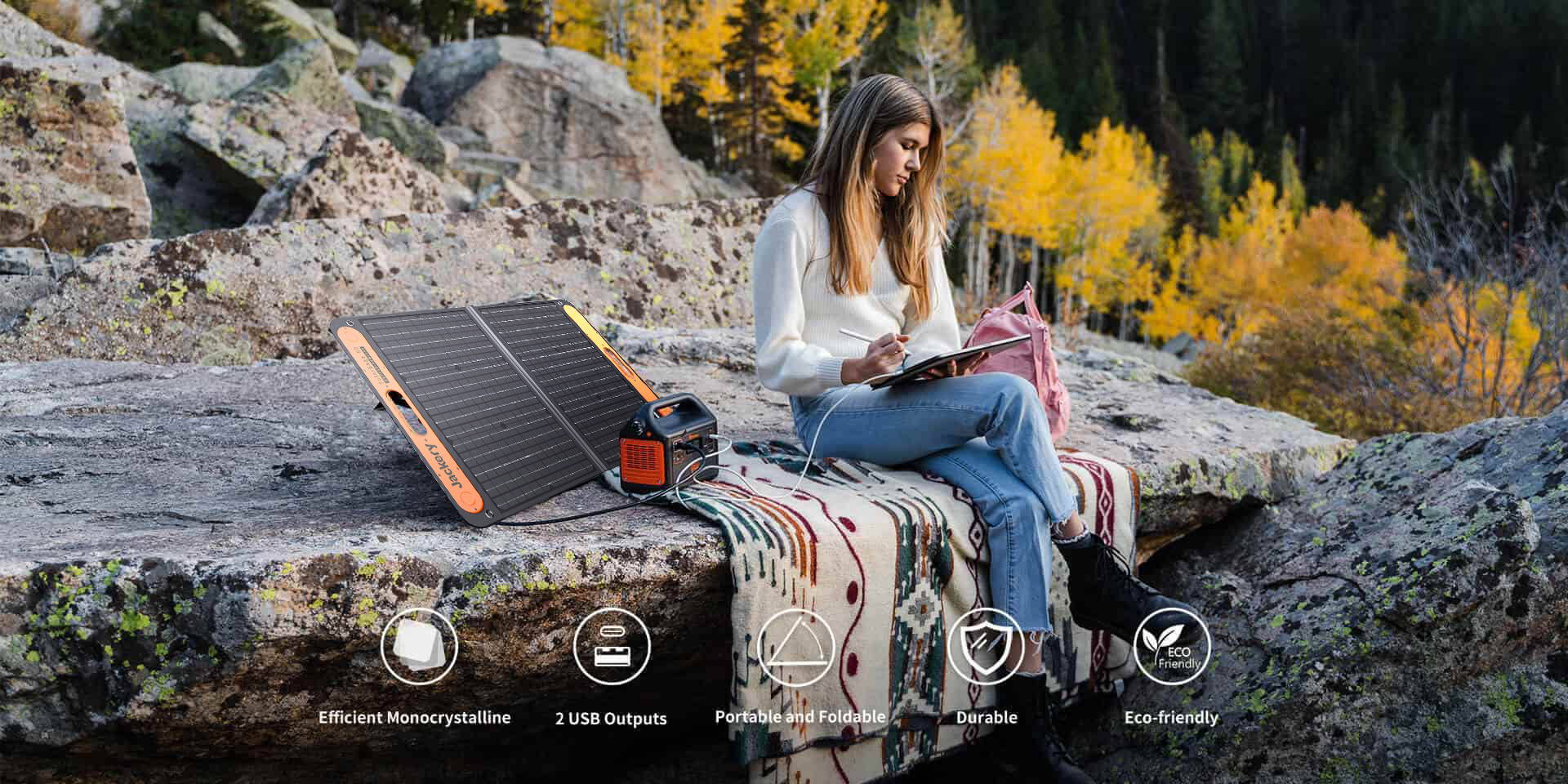 Solar Panel 60W Specifications
Weight:
6.6 lbs (3 kg)
Dimensions (folded):
16.7 x 21.1 x 1.38 inches ( 425 x 535 x 35 mm)
Dimensions (unfolded):
33.7 x 21.1 x 0.2 inches (855 x 535 x 5 mm)
Operating Usage Temperature:
14-149F (-10-65℃)
Warranty:
24 Months
Peak Power:
68W
Cell Efficiency:
23%
Power Voltage:
19V
Power Current:
3.58A
Open Circuit Voltage:
24.2V
Short Circuit Current:
3.71A
Load More
SolarSaga 60 for the Explorer 160/240
SolarSaga 60W solar panels can quickly charge the Explorer 160/240( not included) within 4.5/6.5 hours.
Solar Recharging Steps:
Find the DC interface on the back of SolarSaga 60;
Connect the DC interface of SolarSaga 60 with the DC input of Explorer 240
Please Mind These While Solar Recharging:
Recharging time varies from a different locations, temperatures, weather, etc. The actual time may be different.
During recharging, keep your portable power station away from heat and direct sunlight in order to extend its life span.